Volbeat : clips, infos et concerts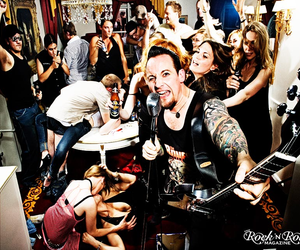 Volbeat a commencé sa carrière en 2001 et publie son 1er album "The Strength/The Sound/The Songs" cette année là. Le dernier album du groupe, intitulé "Rewind, Replay, Rebound", est sorti en 2019. Volbeat a déjà publié à ce jour 7 albums au cours de ses 19 ans de carrière dont notamment Guitar Gangsters & Cadillac Blood, Beyond Hell / Above Heaven et Outlaw Gentlemen & Shady Ladies. Les chansons les plus connues du groupe sont Still Counting, Sad Man's Tongue et I Only Wanna Be With You.
Volbeat est un groupe danois, classé dans la rubrique Heavy Metal. Par le passé, des artistes comme Thomas Bredahl, Anders Kjølholm, Franz Gottschalk et Teddy Vang ont fait partie de l'aventure de Volbeat. Le groupe est composé de Jon Larsen, Michael Poulsen, Rob Caggiano et Kaspar Boye-Larsen. Volbeat est en ce moment sous contrat avec la maison de disque Universal.
Les millions de fans à travers le monde font que chaque nouvel album de Volbeat est un succès commercial. Le groupe publie régulièrement des infos sur son compte twitter ainsi que sur sa page facebook. Afin d'en apprendre plus à propos du groupe, et découvrir les dernières infos, consultez le site officiel.
Les albums du groupe sont disponibles en téléchargement sur iTunes.
Clips vidéos Volbeat