Exodus : clips, infos et concerts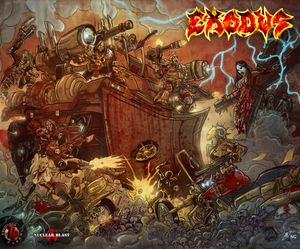 Exodus a débuté sa carrière au début des années 80 et sort son premier album "Bonded by Blood" en 1985. Le dernier album du groupe, intitulé "Blood In, Blood Out", est sorti en 2010. Le groupe a déjà publié à ce jour 11 albums au cours de ses 36 ans de carrière dont notamment Tempo of the Damned, Shovel Headed Kill Machine et The Atrocity Exhibition - Exhibit A. Les chansons les plus connues du groupe sont Bonded By Blood, Piranha et A Lesson in Violence.
Exodus est un groupe américain, classé dans la catégorie Thrash Metal. Exodus est composé de Rob Dukes, Gary Holt, Tom Hunting, Lee Altus et Jack Gibson. Dans le passé, des artistes tels que Rick Hunolt, Rob McKillop, Steve Souza et Paul Baloff ont collaboré à l'aventure d'Exodus. Exodus est en ce moment géré par la maison de disque Nuclear Blast Records Are you a retailer interested in buying titles from this band? For North + South America, Asia, Rest of World, contact wholesale [at] nuclearblastusa [dot] com For Europe, contact wholesale [at] nuclearblast [dot] de.
Exodus a réussi à fidéliser des millions de fans à travers le monde. Exodus publie souvent des informations sur son compte twitter ainsi que sur sa page facebook. Si vous souhaitez en apprendre plus à propos du groupe, et connaitre son actualité, consultez le site officiel.
Vous pouvez trouver les disques du groupe en téléchargement sur iTunes.
Clips vidéos Exodus