U2 : clips, infos et concerts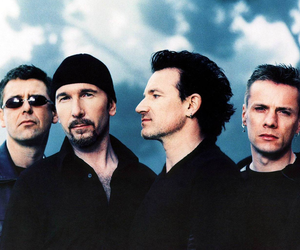 U2 a démarré sa carrière dans le milieu des années 70 et publie son 1er album "Boy" en 1980. Le dernier album du groupe, intitulé "Songs of Surrender", est sorti en 2023. Le groupe a déjà publié à ce jour 14 albums au cours de ses 47 ans de carrière dont notamment All That You Can't Leave Behind, How to Dismantle an Atomic Bomb et Achtung Baby. Les morceaux les plus connus du groupe sont Beautiful Day, With or Without You et One.
U2 est un groupe irlandais, classé dans la catégorie Rock. La formation actuelle du groupe est composée de Bono, Adam Clayton, The Edge et Larry Mullen, Jr.. U2 est pour le moment sous contrat avec le label Interscope.
Les dizaines de millions de fans dans le monde entier assurent le succès commercial de chaque nouvel album d'U2. Afin d'obtenir plus d'infos à propos du groupe, et suivre les dernières infos, parcourez le site officiel. U2 publie régulièrement des informations sur sa page facebook ainsi que sur son compte twitter.
Vous pouvez retrouver tous les albums du groupe en téléchargement sur iTunes.
Clips vidéos U2