The Pussycat Dolls : clips, infos et concerts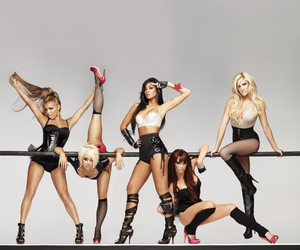 The Pussycat Dolls a commencé sa carrière en 2003 et a publié son 1er album "PCD" cette année là. Le dernier album du groupe, intitulé "Doll Domination", est sorti en 2008. 2 albums du groupe ont été publiés au cours de ses 7 ans de carrière dont notamment When I Grow Up, Doll Domination 2.0 et Hush Hush; Hush Hush. Les chansons les plus connues du groupe sont Buttons, When I Grow Up et Don't Cha.
The Pussycat Dolls est un groupe américain, classé dans la catégorie Pop. The Pussycat Dolls était composé d'Ashley Roberts, Carmit Bachar, J Sutta, Kimberly Wyatt et Nicole Scherzinger. Par le passé, des artistes tels que Melody Thornton, Joie Shettler et Kaya Jones ont collaboré à l'aventure de The Pussycat Dolls. La carrière du groupe s'est terminée par la séparation de ses membres en 2010. Les disques du groupe sont gérés par Universal Music.
Les millions de fans dans le monde entier continuent d'assurer le succès commercial de The Pussycat Dolls. Le groupe possèd'aussi un compte twitter une page facebook dédié aux fans. Si vous souhaitez en savoir plus sur le groupe, consultez le site officiel.
Les disques du groupe sont disponibles en téléchargement sur iTunes.
Clips vidéos The Pussycat Dolls