Bloodhound Gang : clips, infos et concerts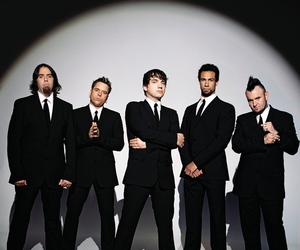 Bloodhound Gang est un groupe américain, classé dans la catégorie Rock. Bloodhound Gang était composé de Jimmy Pop, "Evil" Jared Hasselhoff, DJ Q-Ball, Adam Perry, The Yin et Denial P. Cartier. Par le passé, des artistes tels que Lüpüs Thünder, Willie the New Guy, Daddy Long Legs et Spanky G ont fait partie de l'aventure de Bloodhound Gang. La carrière du groupe s'est terminée par la séparation de ses membres en 2015. Les disques de Bloodhound Gang sont gérés par Jimmy Franks Recording Company / Universal Germany.
Bloodhound Gang a démarré sa carrière à la fin des années 80 et a sorti son premier album "Use Your Fingers" en 1995. Le dernier album du groupe, intitulé "Hard-Off", est sorti en 2015. 5 albums du groupe ont été publiés au cours de ses 27 ans de carrière dont notamment Hooray for Boobies, Hefty Fine et One Fierce Beer Coaster. Les chansons les plus connues du groupe sont The Bad Touch, Foxtrot Uniform Charlie Kilo et The Ballad Of Chasey Lain.
Plusieurs centaines de milliers de fans assurent le succès commercial de Bloodhound Gang. Le groupe dispose aussi d'un compte twitter une page facebook pour les fans. Afin d'obtenir plus d'infos sur le groupe, rendez-vous sur le site officiel.
Vous pouvez télécharger sur iTunes les albums du groupe.
Clips vidéos Bloodhound Gang