Steve Vai : clips, infos et concerts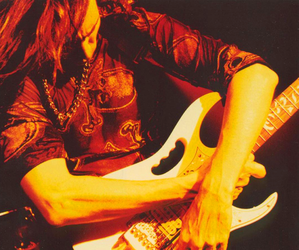 Steve Vai a commencé sa carrière dans le milieu des années 80 et a publié son premier album "Flex-Able" en 1984. Le dernier album de l'artiste, intitulé "The Story of Light", est sorti en 2012. Le chanteur a déjà publié à ce jour 8 albums au cours de ses 35 ans de carrière dont notamment Passion and Warfare, Alien Love Secrets et Fire Garden. Les chansons les plus connues du chanteur sont For the Love of God, Tender Surrender et Liberty.
Steve Vai est un chanteur américain, classé dans la catégorie Instrumental Rock. Le chanteur est aussi membre des groupes The G3 Jam, Western Vacation, G3, Alcatrazz et Generation Axe. Le chanteur a participé aux groupes Whitesnake (de 1989 à 1991) et Vai (en 1993). Il est en ce moment sous contrat avec le label Favored Nations.
Les millions de fans à travers le monde font que chaque nouvel album de Steve Vai est un succès commercial. Pour en savoir plus à propos de l'artiste, et prendre connaissance de son actualité, consultez le site officiel. Il donne souvent des nouvelles aux fans sur sa page facebook ainsi que sur son compte twitter.
Vous pouvez télécharger sur iTunes la discographie complète de l'artiste.
Clips vidéos Steve Vai