Reverend and The Makers : clips, infos et concerts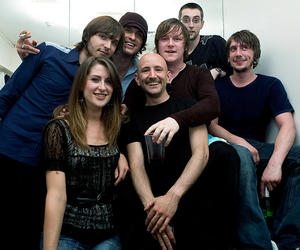 Reverend and The Makers est un groupe anglais, classé dans la catégorie Alternative. La formation actuelle du groupe est composée de Tom Rowley, Jon McClure, Ed Cosens, Laura Manuel, Stuart Doughty et Joe Moskow. Dans le passé, des artistes comme Tom Jarvis et Dave Sanderson ont collaboré à l'aventure de Reverend and The Makers.
Reverend and The Makers a démarré sa carrière en 2005 et sort son premier album "The State of Things" cette année là. Le dernier album du groupe, intitulé "Mirrors", est sorti en 2015. Le groupe a déjà publié à ce jour 5 albums au cours de ses 14 ans de carrière, ceux mentionnés précédemment et aussi @Reverend_Makers et A French Kiss In The Chaos. Les chansons les plus connues du groupe sont Heavyweight Champion Of The World, He Said He Loved Me et Open Your Window.
Plusieurs centaines de milliers de fans font le succès commercial de Reverend and The Makers.
Les disques du groupe sont à télécharger sur iTunes.
Clips vidéos Reverend and The Makers