OK Go : clips, infos et concerts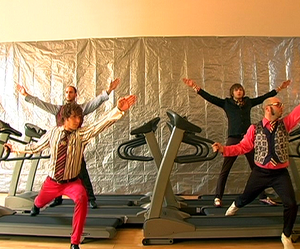 OK Go a débuté sa carrière à la fin des années 90 et sort un 1er album éponyme en 2002. Le dernier album du groupe, intitulé "Hungry Ghosts", est sorti en 2014. Le groupe a déjà publié à ce jour 4 albums au cours de ses 19 ans de carrière, ceux mentionnés précédemment et Oh No et Of the Blue Colour of the Sky. Les chansons les plus connues du groupe sont Here It Goes Again, Get Over It et A Million Ways.
OK Go est un groupe américain, classé dans la rubrique Alternative. Les membres actuels du groupe sont Damian Kulash, Jr., Dan Konopka, Tim Nordwind et Andy Ross. Dans le passé, Andrew Duncan a aussi fait partie de l'aventure d'OK Go. Le groupe est pour le moment géré par la maison de disque Paracadute.
Plusieurs centaines de milliers de fans assurent le succès commercial d'OK Go. Afin d'obtenir plus d'informations à propos du groupe, et prendre connaissance des dernières infos, vous pouvez parcourir le site officiel. OK Go publie souvent des informations sur sa page facebook ainsi que sur son compte twitter.
Les albums du groupe sont à télécharger sur iTunes.
Clips vidéos OK Go