Klaxons : clips, infos et concerts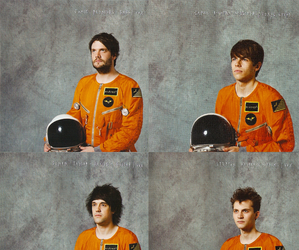 Klaxons est un groupe anglais, classé dans la catégorie Alternative. Klaxons était composé de Jamie Reynolds, James Righton, Steffan Halperin et Simon Taylor-Davis. La carrière du groupe s'est terminée par la séparation de ses membres en 2015. Les disques du groupe sont gérés par Akashic Rekords.
Klaxons a commencé sa carrière en 2005 et a publié son 1er album "Myths of the Near Future" cette année là. Le dernier album du groupe, intitulé "Love Frequency", est sorti en 2014. 3 albums du groupe ont été publiés au cours de ses 10 ans de carrière, ceux cités précédemment et Surfing the Void. Les titres les plus connus du groupe sont Golden Skans, Atlantis to Interzone et It's Not Over Yet.
Klaxons peut déjà compter sur plusieurs centaines de milliers de fans. Si vous souhaitez obtenir plus d'informations à propos du groupe, parcourez le site officiel. Klaxons dispose aussi d'une page facebook un compte twitter dédié aux fans.
Tous les disques du groupe sont disponibles en téléchargement sur iTunes.
Clips vidéos Klaxons