Jean-Michel Jarre : clips, infos et concerts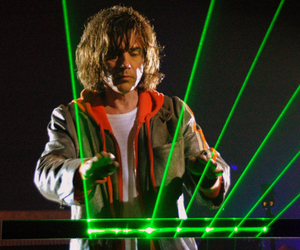 Jean-Michel Jarre a démarré sa carrière solo au début des années 70 et publie son 1er album "Deserted Palace" en 1972. Le dernier album du chanteur, intitulé "Electronica 2: The Heart of Noise", est sorti en 2016. L'artiste a déjà publié à ce jour 19 albums au cours de ses 46 ans de carrière dont notamment Equinoxe, Zoolook et Chronologie. Les titres les plus connus de l'artiste sont Equinoxe Part 1, Equinoxe Part 2 et Oxygene 8.
Jean-Michel Jarre est un artiste français. Le chanteur est actuellement sous contrat avec la maison de disque www.jeanmicheljarre.com.
Plusieurs centaines de milliers de fans aident au succès commercial de Jean-Michel Jarre. Afin d'en apprendre plus sur l'artiste, et prendre connaissance des dernières infos, vous pouvez consulter le site officiel. Le chanteur donne régulièrement des nouvelles aux fans sur sa page facebook ainsi que sur son compte twitter.
Tous les albums de l'artiste sont disponibles en téléchargement sur iTunes.
Clips vidéos Jean-Michel Jarre