Gwyneth Herbert : clips, infos et concerts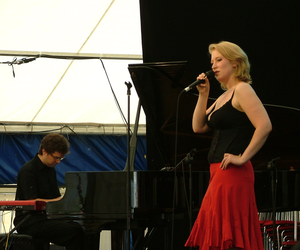 Gwyneth Herbert est une chanteuse anglaise, classée dans la catégorie Chanteuse à texte. Elle est en ce moment sous contrat avec le label Universal Music.
Gwyneth Herbert a commencé sa carrière solo en 2003 et a publié son premier album "First Songs" cette année là. Le dernier album de l'artiste, intitulé "The Sea Cabinet", est sorti en 2013. La chanteuse a déjà publié à ce jour 5 albums au cours de ses 15 ans de carrière dont notamment Bittersweet and Blue, Between Me And The Wardrobe et All The Ghosts. Les morceaux les plus connus de la chanteuse sont Only Love Can Break Your Heart, Fever et The Very Thought Of You.
Gwyneth Herbert dispose d'une popularité croissante avec déjà des dizaines de milliers de fans. Afin d'en savoir plus à propos de l'artiste, et suivre son actu, consultez le site officiel. La chanteuse publie souvent des infos sur sa page facebook ainsi que sur son compte twitter.
Tous les albums de l'artiste sont à télécharger sur iTunes.
Clips vidéos Gwyneth Herbert