Fatboy Slim : clips, infos et concerts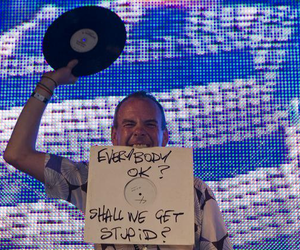 Fatboy Slim a démarré sa carrière solo dans le milieu des années 90 et a sorti son premier album "Better Living Through Chemistry" en 1996. Le dernier album de l'artiste, intitulé "Fatboy Slim's Big Beach Anthems", est sorti en 2012. L'artiste a déjà publié à ce jour 6 albums au cours de ses 21 ans de carrière, ceux cités précédemment et Halfway Between The Gutter and the Stars et Palookaville. Les titres les plus connus de l'artiste sont Praise You, The Rockafeller Skank et Right Here, Right Now.
Fatboy Slim est un chanteur anglais, classé dans la rubrique Electro. Le chanteur est en ce moment sous contrat avec la maison de disque Skint.
Fatboy Slim a réussi à fidéliser des millions de fans dans le monde entier. Le chanteur donne régulièrement des nouvelles aux fans sur son compte twitter ainsi que sur sa page facebook. Pour obtenir plus d'informations à propos de l'artiste, et prendre connaissance de son actu, consultez le site officiel.
Les disques de l'artiste sont disponibles en téléchargement sur iTunes.
Clips vidéos Fatboy Slim