Entombed : clips, infos et concerts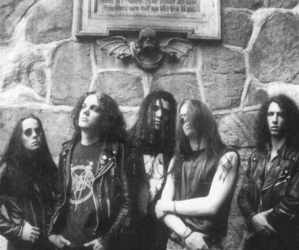 Entombed a débuté sa carrière à la fin des années 80 et publie son premier album "Left Hand Path" en 1990. Le dernier album du groupe, intitulé "Back to the Front", est sorti en 2013. Entombed a déjà publié à ce jour 10 albums au cours de ses 29 ans de carrière dont notamment Wolverine Blues, Morning Star et Clandestine. Les chansons les plus connues du groupe sont Left Hand Path, Wolverine Blues et Drowned.
Entombed est un groupe suédois, classé dans la catégorie Death Metal. Le groupe a été fondé par Uffe Cederlund, Lars-Göran Petrov, Alex Hellid, David Blomqvist et Nicke Andersson. Entombed est composé d'Olle Dahlstedt, Lars-Göran Petrov, Nico Elgstrand et Victor Brandt. Par le passé, des artistes tels que Peter Stjärnvind, Jörgen Sandström, Lars Rosenberg et Johnny Dordevič ont fait partie de l'aventure d'Entombed. Entombed est pour le moment sous contrat avec la maison de disque Threeman Recordings.
Entombed peut déjà compter sur plusieurs centaines de milliers de fans. Afin d'en savoir plus à propos du groupe, et suivre les dernières infos, parcourez le site officiel. Entombed donne régulièrement des nouvelles aux fans sur sa page facebook.
Les albums du groupe sont à télécharger sur iTunes.
Clips vidéos Entombed