Dada Life : clips, infos et concerts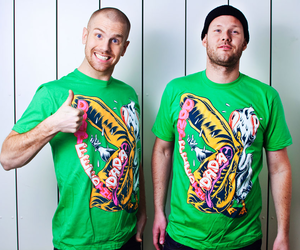 Dada Life a débuté sa carrière en 2006 et a publié son premier album "Just Do the Dada" cette année là. Le dernier album du groupe, intitulé "The Rules of Dada", est sorti en 2012. Le groupe a déjà publié à ce jour 2 albums au cours de ses 11 ans de carrière. Les chansons les plus connues du groupe sont Kick Out The Epic Motherfker, So Young So High, White Noise / Red Meat, Feed The Dada et Kick Out the Epic Motherfker.
Dada Life est un groupe suédois, classé dans la rubrique Electro. Les membres actuels du groupe sont Stefan Engblom et Olle Cornéer. Le groupe est actuellement géré par le label So Much Dada.
Les millions de fans à travers le monde assurent le succès commercial de chaque nouvel album de Dada Life. Le groupe donne souvent des nouvelles aux fans sur sa page facebook ainsi que sur son compte twitter. Si vous souhaitez en savoir plus sur le groupe, et suivre les dernières infos, parcourez le site officiel.
Vous pouvez télécharger sur iTunes les disques du groupe.
Clips vidéos Dada Life