Atari Teenage Riot : clips, infos et concerts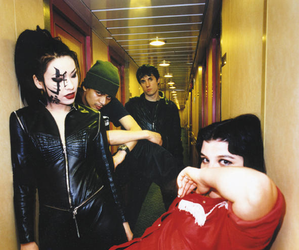 Atari Teenage Riot est un groupe allemand, classé dans la catégorie Electro. Le groupe est composé de Nic Endo, Carl Crack, Alec Empire et Hanin Elias. Atari Teenage Riot est pour le moment sous contrat avec le label Dim Mak / Digital Hardcore Recordings.
Atari Teenage Riot a débuté sa carrière au début des années 90 et a sorti son premier album "1995" en 1995. Le dernier album du groupe, intitulé "Reset", est sorti en 2014. Atari Teenage Riot a déjà publié à ce jour 5 albums au cours de ses 26 ans de carrière dont notamment 60 Second Wipe Out, The Future of War et Is This Hyperreal?. Les chansons les plus connues du groupe sont Speed, Revolution Action et Into the Death.
Atari Teenage Riot peut déjà compter sur plusieurs centaines de milliers de fans. Si vous souhaitez en apprendre plus à propos du groupe, et prendre connaissance des dernières infos, consultez le site officiel. Le groupe donne régulièrement des nouvelles aux fans sur sa page facebook ainsi que sur son compte twitter.
Vous pouvez télécharger sur iTunes la discographie complète du groupe.
Clips vidéos Atari Teenage Riot