A Day To Remember : clips, infos et concerts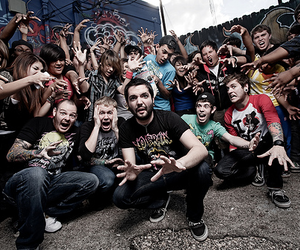 A Day To Remember est un groupe américain, classé dans la rubrique Pop/Punk. A Day To Remember a été fondé par Tom Denney, Bobby Scruggs et Jeremy McKinnon. Dans le passé, Brandon Roberts a aussi collaboré avec A Day To Remember. A Day To Remember est composé de Jeremy McKinnon, Joshua Woodard et Neil Westfall. A Day To Remember est pour le moment géré par le label Victory Records.
A Day To Remember a commencé sa carrière en 2003 et a sorti son premier album "And Their Name Was Treason" cette année là. Le dernier album du groupe, intitulé "Common Courtesy", est sorti en 2013. Le groupe a déjà publié à ce jour 6 albums au cours de ses 15 ans de carrière dont notamment For Those Who Have Heart, Homesick et What Separates Me from You. Les chansons les plus connues du groupe sont If It Means a Lot to You, The Downfall of Us All et All I Want.
A Day To Remember a réussi à fidéliser des millions de fans à travers le monde. Le groupe donne souvent des nouvelles aux fans sur sa page facebook ainsi que sur son compte twitter. Si vous souhaitez obtenir plus d'infos à propos du groupe, et prendre connaissance des dernières infos, rendez-vous sur le site officiel.
Tous les albums du groupe sont à télécharger sur iTunes.
Clips vidéos A Day To Remember